More
News
Gauge 1 Track Official Opening
The Gauge 1 layout that members have been working hard on for the past year is now ready and the official opening will take place on Sunday 26th September. Come along and see these exquisite little trains running on 45mm gauge track.
---
An interview with Darwin Evans
Darwin Evans volunteered for aircrew in 1940 and began training as a navigator. After an accident while training at RAF Bobbington (later RAF Halfpenny Green) ended his operational flying duties, he retrained as a compass adjuster at RAF Cranage and served as an assistant to the Group 1 navigation officer until January 1946. Evans describes flying with crews monthly to calibrate the aircraft compasses and his role in operation briefings. He recollects a good working relationship with the Australian aircrew of 460 Squadron and the Polish aircrew of 300 Squadron, and narrowly avoiding a fatal crash at RAF Binbrook. Finally, he explains how his trouble-shooting role in Bomber Command (inventing heaters for rear gunner oxygen supplies) prepared him for his post-war career as an electrical engineer in nuclear energy research.
Follow the link to listen to the whole interview: https://ibccdigitalarchive.lincoln.ac.uk/omeka/collections/document/10795
---
A Tramcar by Jon Allen
Jon purchased this Newcastle car, built by Walter Amos in the 1960s, as a 'box of bits' along with parts of other tramcars at an auction.
He rebuilt it, from November 2020 onwards, but keeping it more or less in Walter's overscale way of doing things. The picture shows the tramcar being evaluated for clearance to enter his tram shed from the garden running line before completion. It's a heavy vehicle weighing nearly 5kg and propelled by two 48W motors from 28v DC overhead.
The track bed is 2″ by 6″ timbers on supports and the track is gauge 1 rail soldered to brass sleepers to a gauge of 3.5″. The new tram shed has 2 lines running in through doors and he built this part sealing in the rain to the 28V overhead using drawings supplied from friends at Critch tram museum.
---
Our First day Running since Lockdown 2000!
Sunday 25th April was our first full running day since March 2020, and it's great to be back! One of our keenest fans, Ella had drawn this special picture for us to celebrate the occasion. Thank you Ella!
More pictures of our first running day back:
---
Tuesday Working Party 27 April
---
Progress on the Carriage Shed
---
Help your local Model Railway Society with Amazon Smile
Cinderbarrow Model Railway has now signed up to Amazon Smile! That means that you can donate 0.5% of everything you spend at Amazon to our society, and it does not cost you anything at all! To sign up just click the link opposite, and then 0.5% of all your purchases will help us to keep the society running and offer an even better experience for all our visitors.
---
Work continues on the Carriage Shed
The Carriage shed is now secure with the roller shutter door in place and the personnel door fitted. Track is being laid into the shed.
---
Refurbishment Complete!
Geoff has now completed the refurbishment work on his Black 5, The Glasgow Highlander. A big job, every little piece was stripped down and rebuilt. She is now looking like new. We can't wait to see her running at Cinderbarrow.
---
More progress on the Carriage Shed
The lads are making massive progress with the Carriage Shed. Well done lads!
Members' running day on Sunday
Despite that we're not running passenger trains, the Members' Running Day on Sunday was a great success. While some of the stalwarts continued to work hard on the carriage shed construction, other members played with their locos or just generally socialised and caught up on the months of isolation. Photos with thanks to Malcolm.
---
Containers for the carriage shed
The containers for the new carriage shed arrived on Tuesday. Here are some photos of the operation. Now all safely in place. The cladding now has to be installed around them and the roller shutter door added.
---
Progress on the new Carriage Shed
Our major project for 2020 is the construction of a new carriage shed. It is being built out of two containers, connected together and enclosed in cladding to make it harmonise with our existing club house. Several of our members have been working hard on this ever since the lockdown began to ease. The fact that we are not running with passengers due to Covid-19 has in fact made it easier to make progress with the project. First job was digging out, then installing the shuttering for the concrete base. The concrete base was then poured in a couple of hours. Since then the shuttering has been removed and the wood salvaged. The next stage is the arrival of the two containers.
---
Dobson Bridge at Cinderbarrow
The 20th July saw our first event since the easing of restrictions following the lockdown. The Gauge 1 Model Railway Association set up its substantial layout in our car park. The event was well attended by members of our own society and G1MRA.
Note: Public running still remains suspended.
---
Covid-19: Activities suspended – Updated 17 March 2020
Regrettably the trustees have decided that all group activities should be suspended until further notice. This includes talks/presentations at Cinderbarrow, Trustee meetings and all public running. We apologise for the disappointment caused.
---
Railways on the Air
On Sunday 22 September the society took part in a "Railways on the Air" event which was run nationally to celebrate the anniversary of the first steam powered passenger railway. The radio station was set up at Cinderbarrow by our members with the support of the Sands Communication Group. Despite the poor weather, we managed to work 46 different stations throughout Europe. Sands are a small Amateur Radio club based in Morecambe who like to specialise is operating portable events stations. An interesting station was Urban from Stockholm, Sweden (SM0NHE) who builds 7¼" gauge locos and was very keen to hear about the Cinderbarrow railway. However, 3 Dutch stations also contacted us keen on miniature railways so this prompted interesting discussion! The most remote contact was GM3 IBY from Kirkwall on the Orkney Islands. We also managed to work 11 participating Railways on the Air stations Ranging from the Waverley Railway Heritage group at Whitrope to the Royal Deeside Railway on the 40m & 80m bands. At Amberley (GB2CPM) steam engine whistles were evident in the background! Here are the participating stations we managed to work on the Sunday. Visit the 'Railways on the air' website for 2019 to check the call signs against the railway radio station. GB0WRH @ 10:08 40m GB0SRP @ 11:12 40m GB2RDR @ 11:32 40m GB0RVR @ 12:03 40m GB0SRP @ 12:08 40m GB2 SDR @ 12:35 40m GB2 CPM @ 12:37 40m GB0AVR @ 13:30 40m GB0SCR @ 14:25 40m GB1SDR @ 14:35 40m GB2RAR @ 14:39 80m Because we achieved over the magic "10" stations logged, we have been sent an award, shown opposite. Despite the weather, everyone had a good time and the Sands members enjoyed operating from Cinderbarrow and look forward to doing it again! Jon Allen
About the Society
Formed in 1979, the society was first established at a site within the old Steamtown complex. Here we built up a clubhouse and an extensive ground level miniature railway on which to operate the locomotives and rolling stock constructed by our members.
In 1996, after Steamtown closed to the public the year before, we moved to our present location at Cinderbarrow picnic site, just off the A6, a few miles north of Carnforth at Yealand Redmayne.
Since then, with much ingenuity and great effort, the society has emerged stronger than ever with more than seventy members (room for more!) whose interests cover all aspects of engineering in miniature from quarter size steam traction engines to clocks, military vehicles to civilian boats, motor vehicles to barn engines, among others. Our major focus being – the Cinderbarrow Miniature Railway.
Our ground-level 'ride-on' track can accommodate models in 3½", 5″ and 7¼" gauges. The landscaped circuit at the picnic area and our substantial clubhouse have all been constructed with our own resources and with the help of the donations of the many people who have enjoyed a ride on our trains.
In 2019 the club has constructed a Gauge 1 track which is not a ride on track, but more of a viewing entertainment railway. Gauge 1 has a track width of 45 mm/1¾" and the track is at table height. We currently have an end to end section approx. 36' long with seven lines which can be viewed from the waiting platform for the ride on trains. We are hoping to build an oval layout to allow use to run live steam gauge 1 trains.
The society is funded entirely by donations and members' subscriptions and in 2018 the society became a registered charity. Our members take great pleasure in giving enjoyment to our many visitors both young and old and we rely on them to keep the railway running.
If you have not yet visited us, you really ought to do so soon!
History
History of Lancaster and Morecambe Engineering Society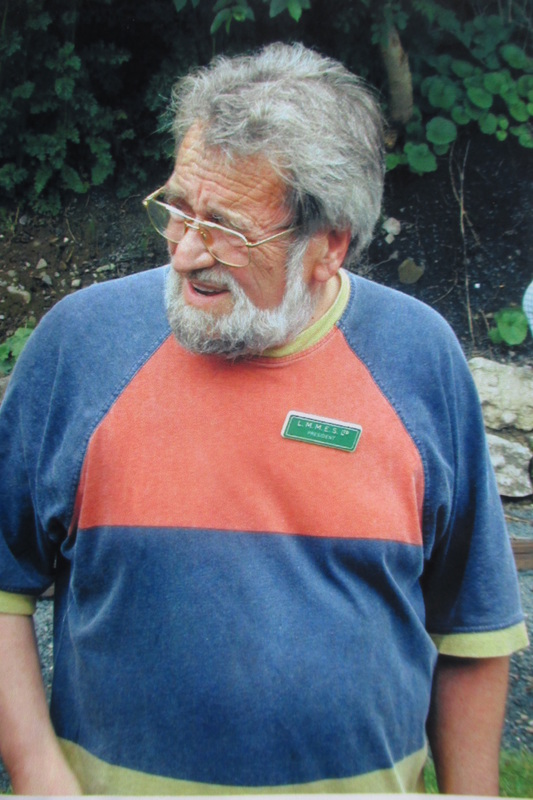 Picture It all began in November 1979 when a gentleman called Karl Latimer put up posters around the local area inviting like-minded people, interested in model engineering, to attend a meeting in Poulton. Approximately 20 people turned up and decided to form Lancaster & Morecambe Model Engineering Society. For three years the founder members met monthly and had exhibitions of their models.
In 1982, the Society was offered the use of a field at Steamtown in Carnforth. Where they built a ground level miniature railway using mostly scrap metal scavenged from around the site. The Society was then able to erect a wooden clubhouse, which was made from the dismantled pre-fabricated office that the owner of Steamtown (Bill McAlpine) had previously used. The track opened in 1985 on which the Society members could operate their own locomotives and rolling stock, allowing visitors of Steamtown the opportunity to enjoy this added attraction. In 1995, Steamtown closed to the public when the ownership was changed and the Society was forced to abandon their site.
After many months of searching for a suitable alternative location we moved to our present location at Cinderbarrow alongside the picnic site in 1996. The site used to be a quarry and was used by the local Council for tipping; tarmac, broken paving stones, kerbstones, stone, road chippings and so on. To get the site to the condition it is now took ingenuity and great effort from about 20 of the members. They set to with picks and shovels in all kinds of weather to prepare the ground ready to lay the track. One member lent the Society a dumper truck, an ancient and temperamental tractor with a bucket on the front was purchased to move materials and manoeuvre two second hand storage containers for tools and equipment. We had to bring water and electricity to the site, laying several hundred yards of underground pipes.
For many months during the site's development the clubhouse was a converted chicken hut – basic but cosy. The track took 4,000 sleepers and 10,000 feet of rail to complete it. This involved an excessive amount of cutting, slotting and welding. Members also constructed; stone walls, a station area, signal box & signalling system, fences, passenger trucks and the carriage shed, to name but a few. The clubhouse shell is the only part of the site that has not been engineered by Society members! After three years, in 1999, Cinderbarrow Miniature Railway was ready and opened to the public on Sundays and Bank Holiday Mondays, from Easter to the end of September. Providing in excess of 12,000 trains rides over the first six months.
The society has emerged stronger than ever with more than eighty members interested in building all manner of models, such as; steam & electric locomotives, stationary barn engines, clocks, radio controlled steam boats and sailing yachts, tanks, traction engines, motor engines and scale railway wagons and carriages. Lancaster and Morecambe Model Engineering Society is a reflection of dedication shown by members past and present.
1st Exhibition in Morecambe Memorial Hall. 02.08.1980

Steamtown June 1983

Steamtown March 1985

Steamtown March 1985

Steamtown June 1983

Steamtown June 1985

Steamtown 06.07.1986

Steamtown August 1986

Steamtown 12.04.1987

Steamtown 20.05.1988
The Move from Steamtown to Cinderbarrow
Grand opening with the mayor and deputy mayor

The inaugural train
For Sale
This page is available for members to advertise items for sale. Please contact the editor if you have an item to sell.
Model engineering bits and pieces
Tony Marshall is selling various Model engineering bits and pieces for a friend.
For more information please contact Tony Marshall 015395 68304 tony@marshallecology.co.uk or James Park who has the items and can tell you about them jujubug1107@hotmail.com.
---
LMMES Stock shop
We ask for a donation of £4 per kilo for copper and £3 per kilo for brass. You can make your donation on line at https://lmmes.co.uk/gift-aid/ and have 25% gift aid added to your donation at the same time.
| | | | Brass | Updated 4/3/18 |
| --- | --- | --- | --- | --- |
| | Ref. | Qty | Description | Size |
| | 5 | 1 | Sheet | 24" x 5" x 1mm |
| | 6 | 1 | Sheet | 20"x13"x0.5mm |
| | 7 | 1 | Sheet | 22" x13½"x 0.5mm |
| | 8 | 1 | Sheet | 19"x16"x0.5mm |
| | 9 | 1 | Sheet | 32"x17"x0.5mm ? |
| | 11 | 2 | Sheet | 24" x 5" x 0.5mm |
| | 12 | 4 | Sheet | 24" x 7" x 0.5mm |
| | 13 | 1 | Sheet | 24" x10½"x 0.5mm |
| | 14 | 1 | Sheet | 18"x7"x0.5mm |
| | 15 | 1 | Round bar | 120mm x60mm dia |
| | 16 | 1 | Round slice | 15mm x 90mm dia |
| | 17 | 4 | Square bar | 130mm x 30mm x 25mm |
| | 19 | 1 | Square bar | 10"x2"x2" |
| | 20 | 1 | Flat bar | 16½" x 3" x 1½" |
| | 21 | 1 | Round bar | 10" x 57mm dia |
| | 22 | 1 | Round bar | 7" x 57mm dia |
| | 23 | 1 | Flat bar | 15½" x 1¼" x 1 " |
| | 24 | 1 | Square bar | 11"x⅞"x⅞" |
| | 25 | 1 | Squareish bar | 8" x ⅞" x ¾" |
| | 26 | 1 | Trapezoidal bar | 17"x¾"x½" |
| | 27 | 1 | Round bar | 510mm x 30mm dia |
| | 29 | 1 | Round tube | 40" x 21 mm dia |
| | 30 | 1 | Channel section | 20" |
| | 31 | 1 | Hinge pin and block | 6"x1"dia |
| | | | | |
| | | | Copper | |
| | Ref. | Qty | Description | Size |
| | 1 | 1 | Sheet | 20" x 5" x 6mm |
| | 2 | 1 | Sheet | 24" x 7½" x 4mm |
| | 3 | 1 | Sheet | 11" x 11" x 4mm |
| | 4 | 1 | Sheet | 24" x 3½" X 3mm |
| | 5 | 12 | Sheet | 24" x 5" x 3mm |
| | 6 | 1 | Sheet | 36" x 6" x 3mm |
| | 7 | 1 | Sheet | 19"x5"x3mm |
| | 8 | 1 | Sheet | 24" x 9" x 3mm |
| | 10 | 1 | Sheet | 24" x 6" x 3mm |
| | 11 | 4 | Sheet | 8" x 4" x 3mm |
| | 12 | 4 | Sheet | 5" x 4" x 3mm |
| | 13 | 1 | Sheet | 6½" x 4¾" x 3mm |
| | 14 | 2 | Sheet | 22" x 4¾" x 2mm |
| | 15 | 1 | Sheet | 24" x 12½"x2mm |
| | 16 | 2 | Sheet | 22" x 9½" x 2mm |
| | 17 | 1 | Sheet | 17"x12½"x2mm |
| | 18 | 1 | Sheet | 16"x9½"x2mm |
| | 19 | 2 | Sheet | 15"x5"x2mm |
| | 20 | 1 | Sheet | 16"x4"x2mm |
| | 23 | 1 | Sheet | 14" x 12" x 1.5mm |
| | 24 | 1 | Sheet | 14"x6"x1.5mm |
| | 25 | 1 | Sheet | 11"x4"x1.5mm |
| | 26 | 1 | Bar | 6" x 2" x ¾" |
| | 27 | 1 | Bar | 10"x1½"x¾" |
| | 28 | 2 | Bar | 8"x1½"x¾" |
| | 29 | 1 | Bar | 5" x 2" x ½" |
| | 30 | 1 | Bar | 7" x 3½" x ¾" |
| | 31 | 5 | Bar | 24" x 8mm x 4mm |
| | | | Miscellaneous | |
| | 40 | 1 | Swivel bench vice | 4 inches |
---