News
Life-saving defibrillator installed at popular Carnforth visitor attraction
A Carnforth visitor attraction is that little bit safer thanks to the installation of a life-saving defibrillator.
Lancaster & Morecambe Model Engineering Society (LMMES), the operator and owners of Cinderbarrow Miniature Railway, carried out a review of the age profile of their members and the visitors who come to Cinderbarrow.
The survey revealed a substantial number of these groups were aged over 60 and so the potential for the society to acquire a defibrillator to be based at Cinderbarrow was looked into. The survey was also carried out because of an observation that the miniature railway, due to its location, is slightly isolated.
Society members raised money through a Defibrillator Collection Fund and the new equipment has now been delivered and installed in the LMMES clubhouse at Cinderbarrow.
The defibrillator – which delivers an electric charge or current to restore a normal heartbeat in the case of a cardiac arrest – will be available for the use of visitors when members are present.

---
Railways On The Air at Cinderbarrow
On Sunday 24th September 2023, Cinderbarrow Miniature Railway joined in with the international event known as "Railways On The Air". This event connects enthusiasts across the globe using amateur radio, primarily using short wave radio transmissions. The station identification that Ofcom gave us to run the Cinderbarrow station was GB4LMS.
We started setting up at 9:30AM and had the big DX Commander aerial erected and the station running by 10:30AM. We had a circuit breaker trip out power around 1pm but after this was reset, we continued until heavy rain hit Cinderbarrow at 2pm. There were a lot of Norwegian stations keen to contact us, as well as stations in the UK, including stations from Scotland and Wales. We managed 10 UK registered railways on the air stations, which qualified us for a Certificate.

We had a lot of public visitors – especially youngsters, who were keen to learn about Amateur Radio and we may have gained a future member for Morecambe Bay Amateur Radio Society. Also, a lot of Railways contacted were very interested in learning about the railway at Cinderbarrow.

So altogether a brilliant day. Special mention of thanks to the ladies in the kitchen who kept us supplied with tea!
Jon Allen M0IXK
---
Presentation from 3R Foundation
In August the Society was fortunate to receive a very generous donation towards our publicity from the 3R Foundation. The cheque was presented to our chairman in a short ceremony on 3 September.

---
7 1/4 inch Mini Gathering
Despite a postponement and then inclement weather on the rearranged date, a very successful 7 1/4inch Society Mini Gathering was held at Cinderbarrow in August. Members of the Society enjoyed their visit greatly.

---
Cinderbarrow at Classics over Sands
The Society set up a stand at the Classics over Sands show at Grange on Sunday 13 August. Members took along a range of models inluding a steam loco and traction engines. There was a great deal of interest from visitors. Some pictures below.
---
Removal of Diseased Ash Tree over Gauge One track
We had to remove a diseased Ash tree from the centre of the Gauge One track area as it presented a threat to those operating the track below and to visitors viewing the trains. The pictures show progress of the work as it was underway. The work was done in collaboration with Lancashire County Council.
---
Completion of track replacement
The inner track has now been completely replaced with flat bottom rail and is a credit to the hard work and dedication of both the Track Gang who relaid the track around the site and the Tuesday/Sunday Gang who have relaid the station area inner track. Our members have worked hard on this throughout the winter season in both fair weather and foul. Thank you to all.
Replacement of the track has been a major objective of the Society to improve both safety and the comfort of passengers.
Some photos of the completed track follow and also final work on readying the whole system, including improvements to signalling and cleaning of passenger queuing areas in readiness for our first running day on 2 April.
---
Track replacement at Cinderbarrow
Members at Cinderbarrow have been working hard to replace our main track during the winter season. When complete, this will make for a more comfortable and a safer ride for all our passengers. The construction of points is always a particularly complicated operation. The photos show three points in place with rails to end of the platform. Our thanks go to the many members who have been working hard on this project.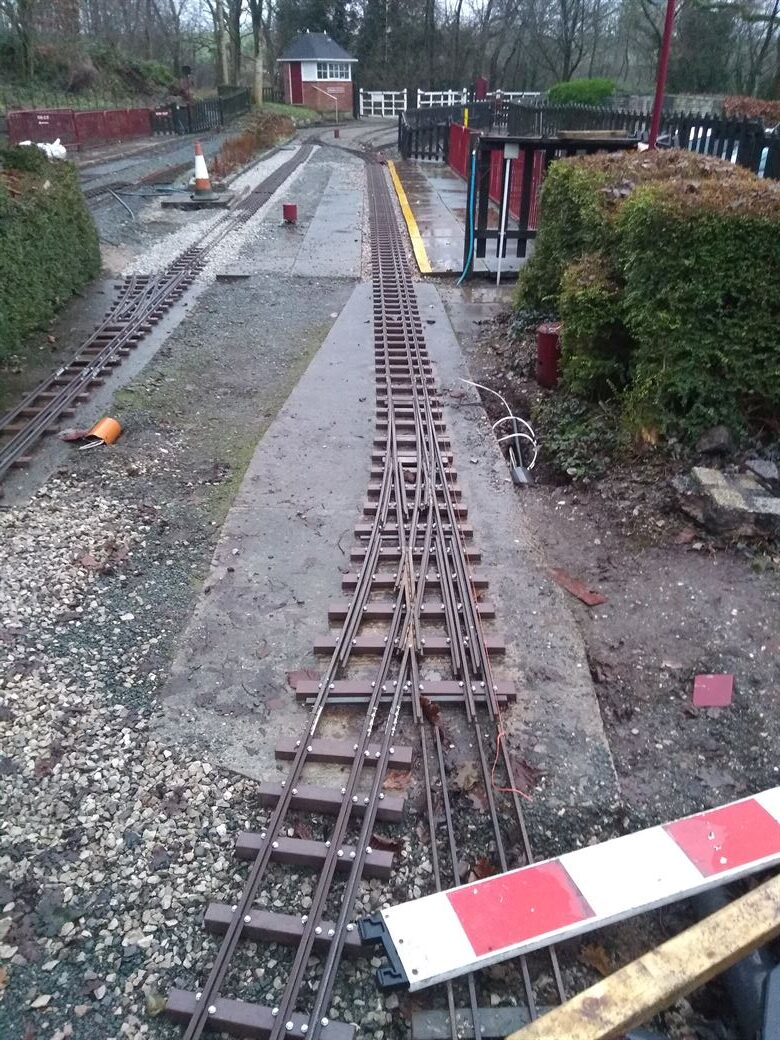 ---
Track replacement
The Society has undertaken a major program of improvements to enhance the comfort and safety of our passengers. One of the biggest tasks is replace our track to a much higher standard. The existing track was installed over 20 years ago and is now becoming difficult to maintain. We are replacing it with 25mm flat bottomed rail and plastic sleepers. When complete, this will significantly reduce the risk of derailments and provide a smoother ride for our passengers. Our members have worked hard on this throughout our non-running season and have made excellent progress on the inner track and although this will not be completed before the start of our running season, the work will continue in November, after the end of public running.

Another element of our improvement program is the replacement of bogies on our passenger carriages. All bogies will be replaced with new fully sprung ones with improved braking.
---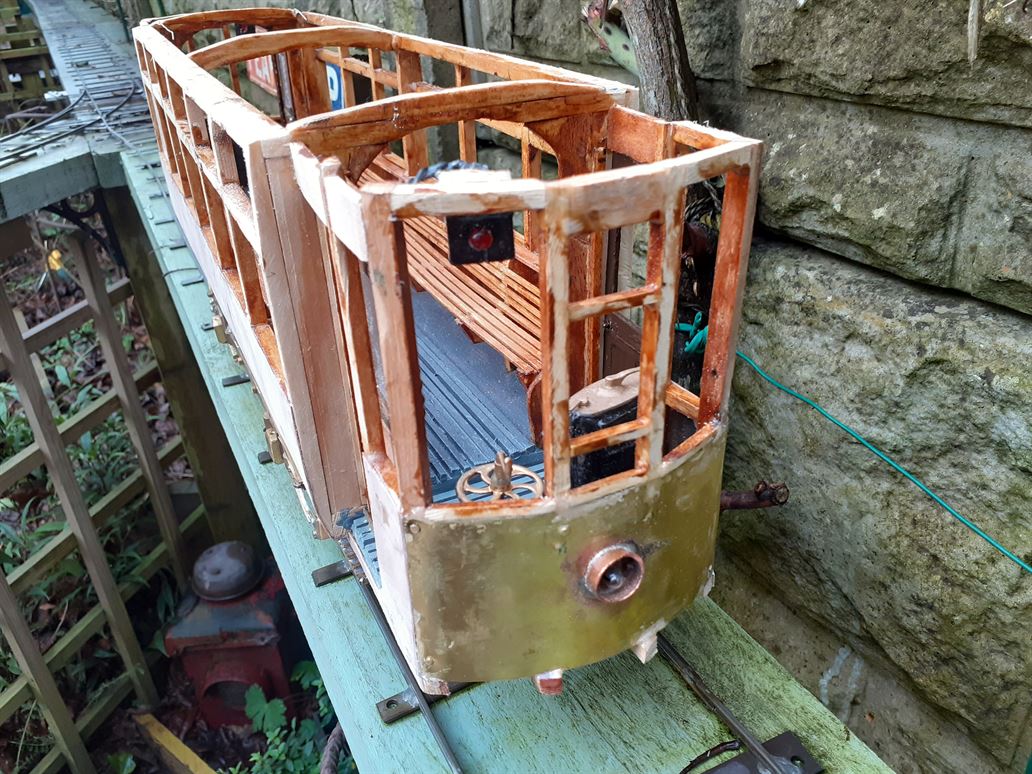 Barrow in Furness tram 45
For a change from trains, one of our members' interest lies in trams. Here are a couple of photos of his latest project underway, he says he started it last April. It's based on Barrow in Furness tram number 45 and actually uses some wood rescued from the actual tram when it was scrapped.

---
Gauge 1 Track Official Opening
The Gauge 1 layout that members have been working hard on for the past year is now ready and the official opening will take place on Sunday 26th September. Come along and see these exquisite little trains running on 45mm gauge track.
---
An interview with Darwin Evans
Darwin Evans volunteered for aircrew in 1940 and began training as a navigator. After an accident while training at RAF Bobbington (later RAF Halfpenny Green) ended his operational flying duties, he retrained as a compass adjuster at RAF Cranage and served as an assistant to the Group 1 navigation officer until January 1946. Evans describes flying with crews monthly to calibrate the aircraft compasses and his role in operation briefings. He recollects a good working relationship with the Australian aircrew of 460 Squadron and the Polish aircrew of 300 Squadron, and narrowly avoiding a fatal crash at RAF Binbrook. Finally, he explains how his trouble-shooting role in Bomber Command (inventing heaters for rear gunner oxygen supplies) prepared him for his post-war career as an electrical engineer in nuclear energy research.
Follow the link to listen to the whole interview: https://ibccdigitalarchive.lincoln.ac.uk/omeka/collections/document/10795
---
A Tramcar by Jon Allen
Jon purchased this Newcastle car, built by Walter Amos in the 1960s, as a 'box of bits' along with parts of other tramcars at an auction.
He rebuilt it, from November 2020 onwards, but keeping it more or less in Walter's overscale way of doing things.
The picture shows the tramcar being evaluated for clearance to enter his tram shed from the garden running line before completion. It's a heavy vehicle weighing nearly 5kg and propelled by two 48W motors from 28v DC overhead.
The track bed is 2″ by 6″ timbers on supports and the track is gauge 1 rail soldered to brass sleepers to a gauge of 3.5″. The new tram shed has 2 lines running in through doors and he built this part sealing in the rain to the 28V overhead using drawings supplied from friends at Critch tram museum.
---
Our First day Running since Lockdown 2000!
Sunday 25th April was our first full running day since March 2020, and it's great to be back! One of our keenest fans, Ella had drawn this special picture for us to celebrate the occasion. Thank you Ella!

More pictures of our first running day back:
---
Tuesday Working Party 27 April
---
Progress on the Carriage Shed
---
Help your local Model Railway Society with Amazon Smile
Cinderbarrow Model Railway has now signed up to Amazon Smile! That means that you can donate 0.5% of everything you spend at Amazon to our society, and it does not cost you anything at all! To sign up just click the link opposite, and then 0.5% of all your purchases will help us to keep the society running and offer an even better experience for all our visitors.

---
Work continues on the Carriage Shed
The Carriage shed is now secure with the roller shutter door in place and the personnel door fitted. Track is being laid into the shed.
---
Refurbishment Complete!
Geoff has now completed the refurbishment work on his Black 5, The Glasgow Highlander. A big job, every little piece was stripped down and rebuilt. She is now looking like new. We can't wait to see her running at Cinderbarrow.

---
More progress on the Carriage Shed
The lads are making massive progress with the Carriage Shed. Well done lads!

Members' running day on Sunday
Despite that we're not running passenger trains, the Members' Running Day on Sunday was a great success. While some of the stalwarts continued to work hard on the carriage shed construction, other members played with their locos or just generally socialised and caught up on the months of isolation. Photos with thanks to Malcolm.

---
Containers for the carriage shed
The containers for the new carriage shed arrived on Tuesday. Here are some photos of the operation. Now all safely in place. The cladding now has to be installed around them and the roller shutter door added.

---
Progress on the new Carriage Shed
Our major project for 2020 is the construction of a new carriage shed. It is being built out of two containers, connected together and enclosed in cladding to make it harmonise with our existing club house. Several of our members have been working hard on this ever since the lockdown began to ease. The fact that we are not running with passengers due to Covid-19 has in fact made it easier to make progress with the project.
First job was digging out, then installing the shuttering for the concrete base. The concrete base was then poured in a couple of hours. Since then the shuttering has been removed and the wood salvaged. The next stage is the arrival of the two containers.

---